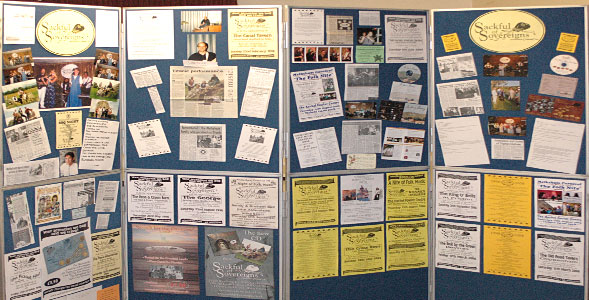 HISTORY (if you're interested)...
.... getting started
The initial idea for Sackful of Sovereigns was born in the summer of 1995. Inspired by a Steeleye Span concert Denise and Colin Harrison got together with Clare Rundle to form a band to play electric folk music.
Initially the trio were joined by songwriter Mike Gerrish on guitar, an old school friend of Denise's, Jane Rickards, on vocals and Tim Smith, a rather talented double bass player and guitarist. The initial idea, and one they have kept to ever since, was to play their own arrangements of traditional folk music on modern instruments - "Electric Folk".
This first line-up was short lived due to work and personal commitments. Mike, Jane and Tim left (amicably) leaving the original three to carry on. A poaching exercise was then tried on friend and keyboard player Jocelyn Clay but due to loyalty to her existing band she declined recommending that the three look for a drummer and bass player. Enter Ian Drew at the "MELKSHAM NEWS" with an offer to run a piece on the band's search for two new members and so, on the 5th October 1995, an article appeared entitled :"Folk Group Seeks Members".
First to reply was Mark Griffin, who now occupies the drum stool, and then another drummer, but Mark had already secured the position. Nobody else rang! Then two weeks later the phone rang again: it was bass player, Phil Mundy. The line up was complete.
Rehearsals continued and a name was finally chosen (after much deliberation) and following discussions a sponsorship deal was set up for the use of sound equipment with Melksham based manufacturer CITRONIC Limited.
.... debut
The band made its public debut, before an invited audience, on the 1996 Summer Solstice, June 21st, followed by tryout gigs through the autumn at venues in Bradford on Avon, Melksham and Trowbridge. Gigging proper started in January 1997 at various venues in the area including an appearance at the Chippenham Folk Festival in May.
.... first recordings - TAPE!!!
On July 1st the band played the Tythe Barn for the Bradford on Avon Music Festival. This gig saw the release of their first tape : "Small Change" (see "Tapes & CD's") which is receiving a good response and is available at the gigs.
.... a new bass player
In November 1997 Phil Mundy decided to leave for pastures new so the band actively sought a new bass player. Adverts were placed, once again, in the local press. Through contacts and friends three possible candidates came forward. Following auditions the position was offered to Ian Spittal an excellent bass player and musician who had played with all styles of bands.
Rehearsals got underway through December 1997 and January 1998 and Ian played his first gig with the band in February and become an integral part of the team both musically and socially ie he's got the same sense of humour.
At this time Mike Gerrish joined (again) as sound engineer for live as well as studio work becoming the sixth member as his role is so important. There are plans afoot to get him to play guitar one day.
.... Bound for the Promised Land
During May the band went back into the studio and started recording tracks for their next tape. Two tracks were completed in record (pun) time and were released on a special edition tape in time for their second appearance at the Chippenham Folk Festival. The band had a superb gig at Chippenham and the main song, "Bound for the Promised Land", about a family of eight from Melksham who perished on the "Titanic", received acclaim from everybody who heard it.
Local BBC Radio Station "Wiltshire Sound" did a news story on Janet Hollerhead who had researched the Goodwin family and used parts of the song in the background. They then received numerous telephone requests to play the entire track which they duly did along with a live interview. They have since played a number of tracks, "Here Come the Navvies", Sackful of Sovereigns" and done further interviews.
.... onto CD
During the summer plans were laid for a new CD and a new song, co-written by Mike and the band, about "Fred Kempster" the Melksham Giant was premiered at the Melksham Festival in September '98.
Colin snapped his achilles tendon playing squash in October and spent three months in plaster getting out of all the gear humping and doing gigs seated.
Progress on the new CD continued to be slow into '99 and it was finally completed in late summer with the title "Up to the Hilt".
.... a new soloist - Kevin and his saxophone
Clare announced that she was planning to marry and probably move away from the area so late autumn was spent considering the band's options as to the way forward with a decision to seek a new instrumentalist/vocalist as soon as possible.
In December Clare married and moved to Essex and the band played Warminster Folk Club as a four piece handing out leaflets in the search for a new member. From that gig we were given a contact for a flute and soprano saxophone player from Frome, Wiltshire and at the start of 2000, after a couple of rehearsals, Kevin Butler joined the line-up.
.... and another bass player - Steve Sawyer
No sooner was Kevin in than Ian announced he was emigrating to Ireland so a new bass player was needed. Within a week Steve Sawyer, an friend who had actually turned down the position after Phil left, agreed to take on the bass slot.
Rehearsals continued through the spring and early summer and the first gig of the new line-up was at The Rachel Fowler Centre in Melksham on July 9th 2000 to a good reaction.
Continuing with rehearsals through the Autumn of 2000 with a few test gigs the band has now put together a full set and are back on the road.
The sound has changed a bit with the introduction of the saxophone but all the old favourites are there along with a few new surprises.
Due to Mike's work commitments we lose him on the sound desk (very careless) though he may return at some point.
.... In for a Penny
May 2002 - March 2003 saw the recording of "In for a Penny" at Littleton Studios and the CD was released in the summer to coincide with our Chalford Charity festival gig in July.
.... and the next solist - Ben on the fiddle
And so we come to the Autumn of 2003 and Kevin's announcement that he is emigrating on a shiny new ship to "The Promised Land" (actually it is the ferry to the Emerald Isle - what is it with Ireland and members of this band?). After three years of superb playing at the gigs, and some really excellent work on the CD "In for a Penny", Kevin plays his final full gig with the band at the Chippenham Arts Festival in November and we start to look for a replacement for him (a hard act to follow).
After a few auditions Phil Mundy, our original bass player, suggests a fiddle player from Bradford on Avon called Ben Osborne. An initial get together clicks and we invite Ben to join the band which he accepts.
Once more we plough into rehearsals to get the sets back together. Ben makes his unofficial debut with the band at Kevin's farewell party which is held in the Cafe Blue in Frome. All the musicians and bands that Kevin has played with over the years are in attendance and he ends up spending most of the night on the stage. A good time is had by all and Kevin gets a good send off.
Back to rehearsals and another unofficial debut, without Mark, playing background music for the Westbury Rotary Club at a twinning event where, needless to say, Ben's virtuosity is very much appreciated.
And so to August 2004 and Ben's official debut at the Rachel Fowler Centre. Once again the sound of the band has changed with the fiddle giving us a folkier sound again, with a few more jigs and reels in the set, and some three part harmony. We're also introducing mandolin into some songs.
.... a Titanic connection
In May 2006 we held a special "Bound for the Promised Land" Concert at the Rachel Fowler Centre for Iza and Carol Goroff, family and friends from the USA.
Carol Goroff's grandmother was Frederick Goodwin's sister and first cousin to his wife Augusta. Carol got in touch with us via the internet about our song "Bound for the Promised Land" and we sent a copy to her in Wisconsin in the states.
She came over to England, visited other relatives of the family and also stayed in the house where the Goodwin family were living before they boarded the Titanic for America.
They took us all out to lunch (3 course) at the Kings Arms Hotel in Melksham and we then played the concert in the Rachel Fowler Centre with our friend Andy guesting on harmonica.
.... The Other Side of the Coin and the 10th Anniversary
In 2006 we recorded the CD "The Other Side of the Coin" which was released to coincide with our 10th Anniversary concert in July. This was held at the Melksham Labour Club where we started in 1996. All the ex members came back to play and we went through the five line ups and finished with everyone on stage.
.... and the we lose Ben
Unfortunately Ben had to move back to London and left the band in June 2007 and we had to look for a new instrumentalist.
.... An Unknown Child
In the meantime we were contacted by Carol Goroff to request a song to follow "Promised Land" to commemorate Sidney Leslie Goodwin who had been identified by DNA fingerprinting in The Halifax Titanic graveyard.
.... Heather joins on concertina, flute and whistle
Through a tip off from a friend we contacted Heather October of 2007 and she agreed to join us. She played her first gig at an Xmas fete in Potterne in December followed by a St Patrick's Day gig in Devizes and a further gig at Rowdeford School in Rowde.
.... the return of Mr Spittal
Ian Spittal also returned from his 7 year stint in Ireland and we've asked him to join us on keyboard. He'll be joining us towards the end of 2008.
"An Unknown Child" was recorded through the start of 2008 and first played at a special graveside ceremony in Halifax, Nova Scotia on 6th August 2008. We were invited to attend but couldn't make it.
Heather's official first gig with the band was at Cleeve House, Seend where we premiered "An Unknown Child" in the UK.
.... Denise leaves after 14 years!
At the end of 2009 Denise announced that she was felling increasingly nervous about performing and wasn't enjoying it any more and decided to leave the band. The band did a couple of gigs in 2010 without Denise as lead vocalist but decided to search for a new vocalist.
.... and then there were four
Mid 2010 Heather decided to leave the band (too much lifting and carrying with all the kit) to form a new band "Dance Bazaar" but we're keeping in touch as Colin is playing guitar for her in the band.
.... and then there were three - Mark leaves after 15 years!
Not much activity with the band in 2011, a couple of meetings to discuss whether to continue or not. Mark is playing with a couple of other bands and their gig list is growing giving him less time to commit to the band. He decides to concentrate on the other bands for gigging but wants to stay connected with the band.
.... putting it all back together
Colin, Steve and Ian get together for a rehearsal in the Autumn of 2011 and decide that they definitely want to continue with the band. They put out adverts (thanks to Melksham News - AGAIN and The Gazette and Herald) for a new singer, drummer/percussionist and soloist
.... a new singer
First to join is vocalist Daizi Reynolds, from Urchfont, who the band have known for a number of years through Potterne Pantomime Group. Daizi's voice is similar to Denise's which means that we don't have to change all the keys and she's also bringing in new, more modern songs. Rehearsals continue....
.... and a new drummer
Next up is Craig Martin, from Melksham, on the drums who saw the advert in the Melksham News. Craig's played in all sorts of band from jazz to world music and has got some really interesting ideas on different rhythms.
.... the 100th Anniversary
2012 saw the 100th Anniversary of the Titanic and Carol and Iza Goroff visited Melksham at the start of April and then return to the USA on the Titanic 100th Anniversary Cruise. Carol is continuing to write her book on the Goodwin Family and hopes to publish it soon.
New website launches (you're reading it so you may have noticed).
.... Daizi and Steve Depart
October 2013 saw the the last gig with the Band for Daizi and Steve. Steve has been with the band for 13 years and like Daizi has found that other commitments have meant that they haven't got the time to give to the band - sorry to see them both go.
.... and another Mark joins the band
Mark Peaple joined us in 2013 on Bass Guitar after being invited along to see the band at the Rachel Fowler Centre in Melksham. "I have to be in this band!" he was heard to utter and subsequently auditioned and got the gig. Mark also plays guitar and is a guitar teacher. He used to run "Mark's Musical Instruments" in Melksham which unfortunately became a victim of the recent recession. Having played in bands since he was a teenager he currently also plays in a Rock and Roll band and treads the boards with the Melksham Music and Drama.
.... and then there were five!
January 2014 sees Leonie Macaslin join us on vocals. Leonie was brought up listening to Sackful's music being the daughter of guitarist Colin and Sackful's original singer for 15 years, Denise. She started performing at the age of eight with the Potterne Pantomime group also joining other theatre groups in the area - Trowbridge Amateur Operatic Society and Logan West. She has recently returned to the area from London where she graduated with a degree in Musical Theatre from Mountview Academy of Performing Arts and can also be seen in June 2014 performing with T.A.O.S. Musical Theatre as one of the witches in their production of "The Witches of Eastwick". She just loves singing!
.... still looking for an instrumentalist
So the band has found their new lead vocalist and bass player to launch Sackful Mk7. but are still looking for an instrumentalist to add to the line-up.......
..... to be continued.