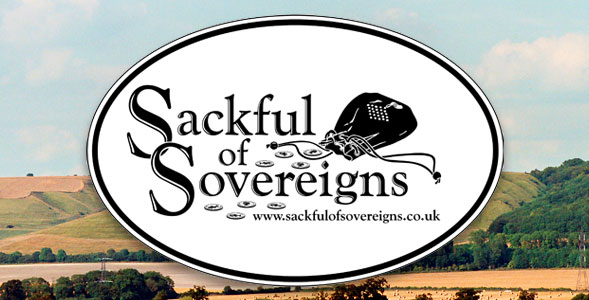 ABOUT US...
Formed in 1995 and based in Melksham, Wiltshire in the heart of rural England, Sackful of Sovereigns is a five piece band performing their own original material and modern arrangements of Traditional and Contemporary English Folk Music.
To date the band has had 7 different line-ups and produced six CD's.
The current line up consists of two vocals, guitar, keyboards, bass and drums and the band is looking for a fiddle player to join the ranks. See Current Line-Up to find out Who's Who.
They describe their music as "electric folk" and are always on the lookout for good local themes for their own songs.
Local subjects already covered include:
Fred Kempster - The Melksham Giant ("Tell Us a Tale"- Up to the Hilt) - who was 8'4½" tall and, at the time, Europe's tallest man.
The Battle of Roundway Down ("All for the Sake of the King" - In for a Penny) - fought above Devizes during the Civil War on the 13th July 1643.
The Spanish Armada ("Tom, Dick, Harry and Me" - The Other Side of the Coin) - Three young lads from Wiltshire sign up to help fight the Armada and find that war in reality isn't as glamarous and exiting as they thought it would be.
The Kennet and Avon Canal - ("Surfing the Locks" - The Other Side of the Coin) - Written by Bass Player Steve Sawyer after a good session on the red wine it concerns a canal barge surfing the locks on the Caen Hill flight to get to Bath in time to meet their deliveries.
and two songs about,
The Goodwin Family from Melksham - ("Bound for the Promised Land" and "An Unknown Child") - who were emigrating to Canada in 1912 on board the RMS Titanic and were all lost with the ship when it struck an iceberg and sank.
See Recordings for information, details, lyrics etc. on the songs.
The band plays concerts, clubs and festivals locally around Wiltshire.